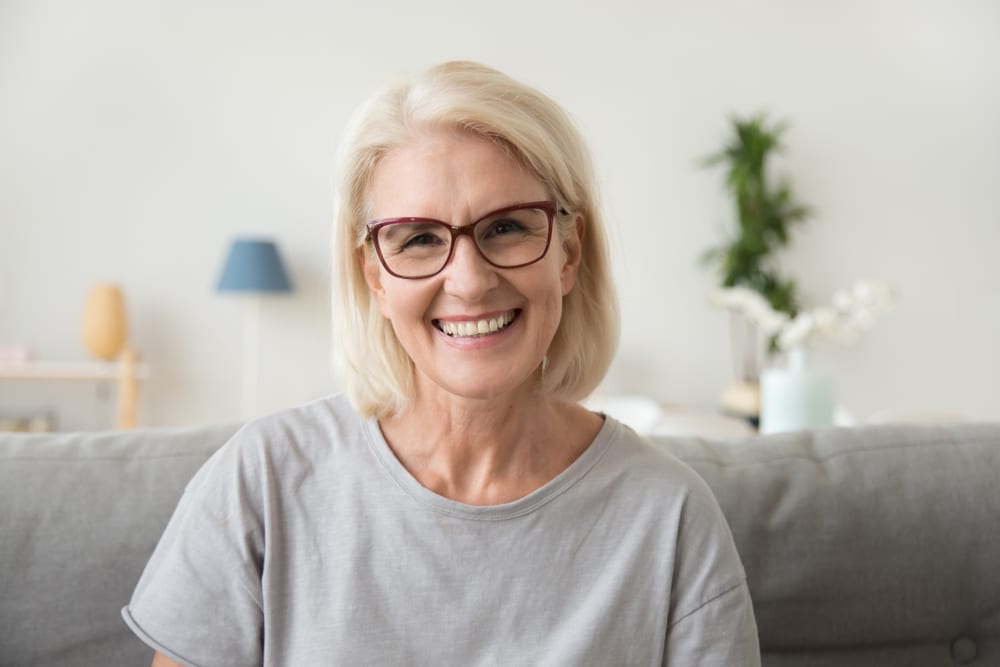 Are you missing teeth? You're not alone. Full Dentures in Ogden are a great way to replace missing teeth and can improve your oral health, appearance, and quality of life. Dentures in Ogden may be the right choice if you're looking for a natural-looking solution to missing teeth. The Laurence Palmer DDS team is experienced in providing quality dentures that will make you feel confident and look great. Schedule an appointment today to see if dentures are the right option for you.
Depending on your needs, we have a dental option for you, including:
Full Dentures

Partial Dentures
What Are Full Dentures?
Full Dentures in Ogden are a type of dental prosthesis used to replace all natural teeth in an arch. They are supported by the gum tissue or may be held in place by dental implants. Dentures are usually made of acrylic or porcelain, and we can carefully customize them to perfectly match the color and shape of your natural teeth. Partial dentures are also available for patients who still have some natural teeth remaining.
Many think dentures are only for older people who have lost all their natural teeth. However, there are many benefits to wearing complete dentures, even if you still have some of your original teeth. Dentures can be an essential part of maintaining oral health and can help support your face's structure. They help to support the lips and cheeks, prevent premature wrinkles and sagging skin, and prevent food from gathering in the spaces where teeth are missing. They can also improve the appearance of a smile, help you speak and eat normally, and give you the confidence to socialize and interact with others. 
Complete dentures can also be a more comfortable option than partial dentures. Anyone considering dentures in the Ogden area should consult with Dr. Laurence to discuss their options and ensure that dentures are the best solution for their needs.
How Long Do Full Dentures Last?
With proper care, dentures can last many years. Here are a few tips on how to take care of your dentures:
Brush your dentures every day with a soft-bristled brush and water. You can also use mild dish soap or denture cleaner. Avoid using toothpaste, as it is abrasive and can damage dentures.

Rinse your dentures after every meal to remove food debris and plaque. Plaque can lead to gum disease and other problems.

Soak your dentures overnight in water or a denture cleanser to keep them moist. Soaking will also help to remove any residual plaque.

See your dentist regularly for professional cleanings and checkups. They will be able to spot any problems early and make any necessary repairs or adjustments.
How Much Do Full Dentures Cost?
The cost of complete dentures depends on several factors, including the type of dentures you choose, the materials used, and the complexity of your treatment.
Porcelain or ceramic dentures are typically more expensive than plastic or acrylic ones, but they also look more natural and last longer. Ultimately, the best way to get an accurate estimate is to consult with us. We can discuss your options and give you a personalized quote based on your individual needs.
What is the Process of Getting Full Dentures?
The process of getting complete dentures usually takes several weeks from start to finish.
First, you will need to consult with Dr. Palmer to discuss your options and determine if dentures are the right choice.
Next, we will take impressions of your teeth and gums and use them to create a mouth model. We will use this to make a custom set of perfectly fitting dentures.
Once the dentures are ready, you will come in for a fitting. We will make any necessary adjustments to ensure that they fit comfortably and function properly.
Finally, we will give you instructions on caring for your new dentures and keeping them clean.
Full dentures are an excellent option for those who are missing most or all of their teeth. They can last 10-15 years with proper care, and getting them is relatively simple. Contact us today if you're interested in complete dentures or want to schedule an appointment. We would happily answer any questions and help you get started on your journey to a beautiful smile!