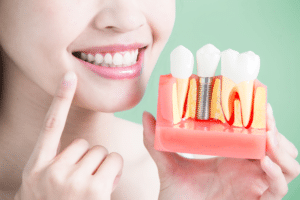 Missing one or more teeth can make you feel self-conscious and affect your quality of life, making it difficult to eat and speak. Dental implants are a great way to replace missing teeth and restore your smile. Our implants are made with the highest-quality materials and are designed to be durable, functional, and comfortable. They look natural, so you can look forward to showing off your smile once again.
What is a dental implant?
A single tooth dental implant is made up of two general parts: the implant itself and the artificial tooth restoration. The titanium implant acts as the new tooth "root" to support the artificial tooth restoration, providing a sturdy foundation for the tooth after being surgically placed into the jaw bone.
Artificial tooth restorations are made with porcelain material. Porcelain is strong, durable, and exactly resembles our natural tooth enamel. Porcelain material allows the restoration to have the same functionality as natural teeth.
What is the dental implant process in Ogden?
We offer a variety of implant options to meet your needs. We also provide comprehensive aftercare services to ensure that you have a positive experience with your new implants.
The first phase of the restoration process is getting the measurements and the specifics of making your new artificial tooth. We custom-make the tooth to fit every size, shape, and shade of the surrounding natural teeth with the restoration. We want to ensure this tooth looks like it belongs in your smile.
The implant is placed under the gums and allowed to fuse with the bone over several months. Once it has fused and you have healed from the implant surgery, we can place the crown restoration on the supporting implant. Dental implants can also be used to support a dental bridge or denture, making them more secure and comfortable.
How much do dental implants cost?
The dental implant cost varies depending on several factors, including the type of implant, the complexity of the treatment, and the number of teeth you are replacing. We can help you compare prices and get multiple opinions before deciding. We work with most insurance plans. If you don't have insurance, no problem. We offer flexible financing plans to help provide the most affordable quality dental care possible.
How do I care for dental implants?
With proper care, dental implants can last a lifetime and provide you with a beautiful smile. Here are a few tips for caring for your implants:
Brush and floss daily. Be sure to use a soft toothbrush and gentle flossing motion.
Visit your dentist regularly for checkups and cleanings.
Avoid hard and chewy foods.
Don't use your teeth as tools.
Don't smoke.
What are the benefits of dental implants?
Dental implants provide many benefits, including:
Jawbone support:
Missing a tooth can cause deterioration of the jaw bone and surrounding tissues. The implant allows proper stimulation of the bone that prevents this deterioration.
Smile aesthetics:
Having a gap in your smile can draw unwanted attention. Implants look entirely natural and attract no attention.
Natural functionality:
Implants are a permanent restoration that will last a lifetime with proper cleaning care.
Get started on your brand new smile in Ogden, Utah
St Laurence r. Palmer DDS in Ogden, Utah, we want our patients to love their smiles. We are focused and dedicated to providing permanent options for restoring teeth that feel entirely natural.
Dr. Laurence Palmer is a specialist in cosmetic dentistry, including the dental implant procedure. If you are missing a tooth and have been searching for an option, please see us in Ogden, Utah. We are looking forward to helping you receive a new tooth!
Please schedule a consultation today.