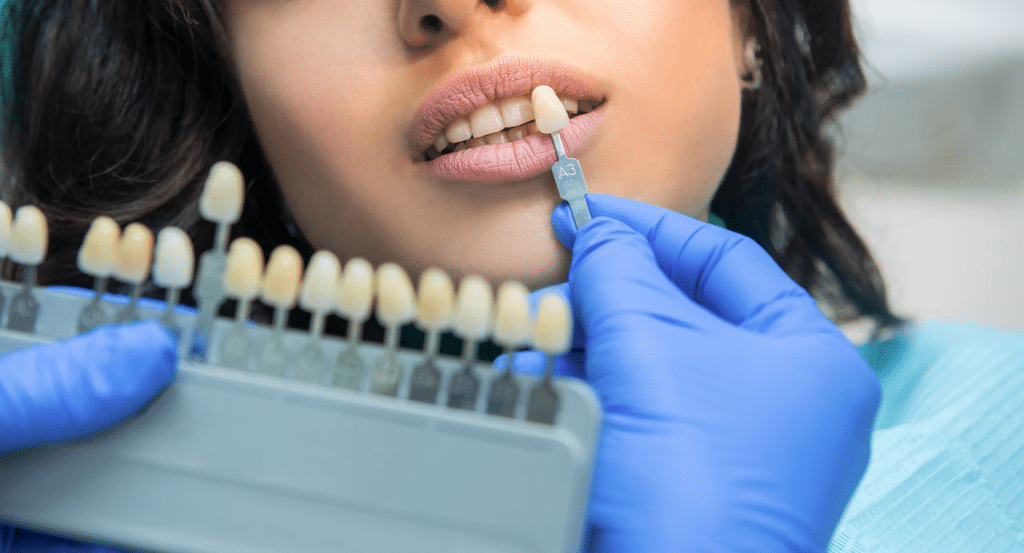 Tired of looking in the mirror wishing you had a better smile? We all know that beauty is unique and special to each person, and at Laurence Palmer DDS, we are dedicated to helping you create the best version of your smile. Our Cosmetic Dentistry treatments in Ogden, Utah, will help perfect the appearance of teeth with transformative and safe techniques such as teeth whitening, bonding, or veneers. Our dental veneers can solve many dental concerns, such as teeth spacing, chipped, cracked, or worn-out teeth, crooked teeth, and teeth that are too small. 
A Perfect Smile With Veneers
Everyone wants a healthy set of teeth and a pleasing, flawless smile. Dissatisfaction with your teeth or smile can negatively affect your self-confidence and social life. Thanks to cosmetic dentistry, achieving a perfect and natural-looking smile has become easy with dental veneers, also called porcelain veneers. Dental veneers can provide your smile with an instant smile makeover in a fast, affordable, and minimally-invasive way.
Porcelain Veneers are thin, wafer-like dental appliances placed on the tooth to cover the stained part and enhance its appearance. When bonded to the tooth surface, they enhance the shape, size, and color of the existing tooth creating a natural-looking, beautiful smile. Veneers are custom-made using a person's teeth as a blueprint. 
Problems Addressed by Porcelain Veneers
Veneers cover and fix a variety of dental problems, that include the following:
Chipped teeth:

A veneer can bring chipped teeth back to their original shape and restore functionality.

Misshapen teeth:

If you feel that the shape of one or more of your teeth is less than ideal, veneers can help to make such teeth look visually better. Veneers can help to ensure all your teeth look perfect with your smile!

Cracked or broken teeth:

If your teeth have become cracked or fractured, they may lack the necessary support and durability during chewing. Teeth can be supported and held intact using a veneer. Veneers can seal the cracked tooth portion, preventing external debris from entering the tooth and possibly causing an infection.

Discolored teeth:

The food and drinks we consume daily can cause tooth staining. We often recommend a veneer for badly stained teeth to help give your smile a significant makeover. Our professional teeth whitening techniques can bring badly discolored teeth back to their original color, but in some cases, whitening solutions do not yield the desired result.

Worn-out teeth:

Your teeth suffer from wear and tear. Things like bruxism, teeth grinding, and everyday biting and chewing can lead to worn-out teeth shorter than neighboring teeth. Veneers can help lengthen the crown and return it to its ideal shape and length.

Gaps between teeth:

Excessive space between adjacent teeth can be reduced using veneers resulting in a beautiful smile.
The Dental Veneers Process
Getting dental veneers is easy and can instantly give you a renewed, beautiful smile! Getting veneers can be just the thing to give you a completely new look and boost confidence – all in a simple two-step process! It begins with a consultation with Dr. Palmer to determine if you're an appropriate candidate for the procedure. Then, he and his team will take precise measurements and molds of your natural teeth so that our dental lab technician can craft your custom-fitted veneer. Finally, at your next appointment, we will place it carefully over the affected area to ensure that the fit and color blend naturally with your existing teeth.
Dental Veneers in Utah
Our cosmetic dentistry procedures include restoring chipped or discolored teeth, straightening crooked smiles, and more! You'll love your new teeth, which will show in your beautiful smile. 
Call us for a consultation with Dr. Palmer or schedule an appointment online so that we can determine which treatment is best for you!