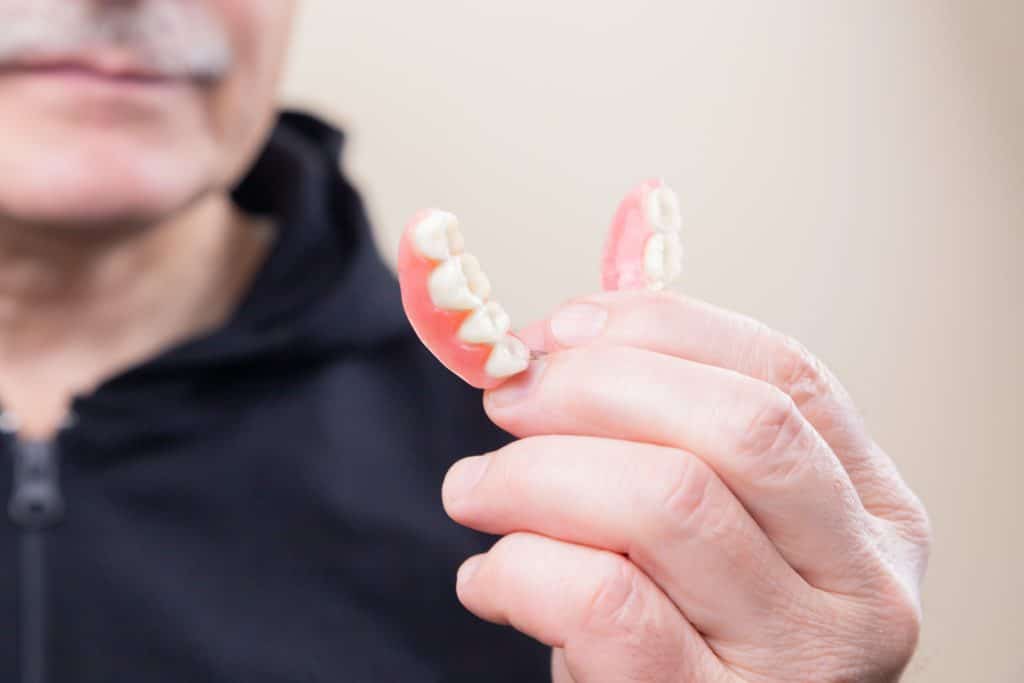 Are you missing a tooth or teeth? Our partial dentures in Ogden may be the solution for you! Partial dentures are an affordable and convenient way to replace missing teeth. They are made to look and feel like your natural teeth, and they can help restore the function of your smile.
You'll love how natural partial dentures are virtually indistinguishable from your real teeth. And you won't have to worry about food getting caught between gaps in your smile. Schedule an appointment today with Laurence Palmer DDS, to see if partial dentures are right for you.
What Are Partial Dentures?
Dentures are prosthetic devices that replace missing teeth, and they come in two main varieties: full dentures and partial dentures. As the name suggests, complete dentures replace all teeth in the upper or lower jaw. On the other hand, partial dentures fill in the gaps left by one or more missing teeth.
Both types of dentures can be supported by the surrounding gum tissue and held in place with the help of adhesives. Partial dentures sometimes have a metal framework that attaches to the remaining natural teeth and supports one or more artificial teeth. In some cases, partial dentures may also be supported by dental implants.
Whether you choose full or partial dentures will depend on your individual needs and preferences. However, both types of dentures can help you restore the function and appearance of your smile.
Partial Dentures Are Custom-Made to Fit Your Mouth
When you come in for a consultation, we'll take impressions of your teeth and mouth so that we can create a custom partial denture that fits you perfectly. We'll also consider the shape and color of your natural teeth so that your partial denture looks as natural as possible.
Partial Dentures Are Made from Durable Materials
partial dentures in Ogden are typically made from a combination of acrylic and metal. The acrylic creates false teeth, and the metal creates the framework that attaches to your remaining natural teeth. Partial dentures are durable and can last for many years with proper care.
Partial Dentures Can Help You Speak and Eat Properly
When you lose teeth, it can impact your ability to speak and eat properly. This impact can be not only embarrassing but also uncomfortable. Even if you are missing just a few teeth, it can make a big difference in your life. Partial dentures can help by replacing these teeth!
Caring For Your Partial Dentures
Dentures are an essential investment in oral health, and taking care of them is vital so they can last for years. Here are some tips for caring for your partial dentures:
Rinse your dentures after each meal to remove food particles and plaque.

Brush your dentures daily with a soft-bristled toothbrush and nonabrasive toothpaste.

Soak your dentures in a mild, denture-soaking solution nightly.

Don't use harsh cleaning products or brushes, as they can damage your dentures.
Following these simple steps can keep your partial dentures clean and in good shape for many years.
What is the Process?
The process of getting partial dentures typically takes a few weeks. First, we'll take impressions of your teeth and mouth so that we can create a custom partial denture that fits you perfectly.
Once we have the impressions, we'll send them to our dental lab, where they will create your partial denture. Once we receive your partial denture from the lab, we'll schedule a fitting appointment. At the fitting, we'll ensure that the fit is comfortable and that the partial denture looks natural. We may make some adjustments at this appointment to ensure a perfect fit.
Partial dentures are an excellent solution for people who have lost some of their teeth. They are custom-made to fit your mouth and are made from durable materials that will last for many years. Partial dentures can help you speak and eat properly and can last for many years with proper care. 
Contact us today if you would like to schedule an appointment with Dr. Palmer. We would be happy to answer any of your questions and help you get started on the road to better oral health and a beautiful smile.