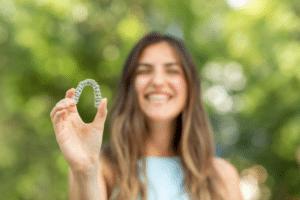 Have you ever wondered about seeing a dental professional straighten your teeth, then stopped in your tracks at the thought of metal braces? Since the most common and well-known way to treat crooked teeth is braces, many don't know there is another option. At Laurence Palmer DDS right here in Ogden, Utah, we care about your confidence and self-esteem while enhancing your smile. That's why we offer Clear aligners.
If you have heard of ClearCorrect, you have probably heard them referred to as clear aligners or clear braces. They are precisely that! For adults and teenagers that are conscientious about their smile or don't want to have a mouth of metal in a professional work environment, ClearCorrect offers a discreet way to a new smile. 
Braces require an appointment to tighten the archwires and continue the movement. With ClearCorrect, you are in charge of the interchanging and only come in if needed. 
How the ClearCorrect System Works
Working closely with the dentist, we will discuss your desired outcome and how long you will wear it to achieve that outcome. ClearCorrect aligners softly guide your teeth according to your cosmetic desires and your treatment plan by applying precise pressure to them. Your teeth will be more attractive, straight, functional, and less prone to decay.
ClearCorrect is a series of custom-made, clear dental plastic aligners that slowly put pressure on your teeth, moving them into place. Each set of aligners will be worn for two weeks then interchanged with a new set made to move them a little further. The aligners are to be worn 22 hours out of the day.
ClearCorrect Benefits
Is completely clear and makes it nearly impossible for people to tell you to have anything on your teeth. Your bite might be affected by poor teeth alignment. A non-functional bite can lead to tooth wear, speech defects, and poor eating habits. You can fix all of these problems with ClearCorrect.
ClearCorrect can be used to treat the following orthodontic conditions:
Crowded teeth

Gaps between teeth

Over-bites and under-bites

Crooked or rotated teeth
Removable — Because It is removable, patients can regularly maintain good oral health by brushing and flossing. Patients with traditional braces are advised not to eat particular foods to avoid brackets and wires from breaking. ClearCorrect gives you the freedom to eat whatever you want. You have to avoid certain foods with braces, and cleaning teeth can be challenging. You can easily take ClearCorrect aligners out to eat and perform at-home oral health care. 
Invisible — No more unattractive metal with a clear aligner! ClearCorrect aligners are almost undetectable, and many prefer them to traditional braces because they are more comfortable to wear. They are minimally invasive and easy for any adult or teenager to use. 
We Make Straightening Your Teeth Convenient
ClearCorrect is more convenient than traditional braces since it reduces the number of visits to our clinic. To monitor your progress and prepare your new aligners, we just need to see you every six weeks.
Come Learn More
Any member of our team at Laurence Palmer DDS can answer any questions or concerns you may have regarding ClearCorrect. Come stop by or give our Ogden, Utah office a call. ClearCorrect has changed many of our patients' confidence in their smiles, and you could be next!